Viaflash
USB Firmware Flashing Tool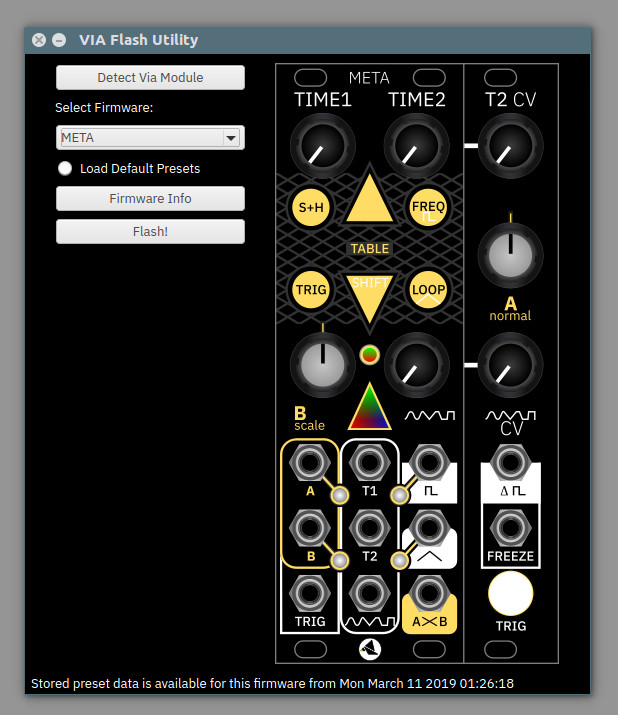 Mac: Copy Viaflash.app to a folder outside of the disk image and then run it from the new location on your computer.
Linux: Unzip and run the Viaflash executable
Windows: Ensure that the correct USB drivers are installed. Then, unzip and run Viaflash.exe
1. Disconnect Via from eurorack power.
2. Disconnect the expander cable from the expander if installed (no need to disconnect the end connected to the digital board). Some USB hosts don't mind the expander, but some do.
3. Connect it to your computer with a micro-USB data cable while pressing the DFU button adjacent to the usb port. You can release the button once the connection has been made.
4. Click "Detect Via Module". If successful the status bar will show you the serial number and currently installed firmware, and save presets if available.
If it's your first time flashing with a given Via and computer, and it has firmware installed, Viaflash will ask if you want to store the preset as a calibration preset. If you got the module from Starling or have successfully run a calibration routine in the past, you want to do this. It will allow your calibration to persist even after reflashing. You should only need to do this step once.
5. If connected to the internet, select the firmware from the list and click flash. If you select "local firmware" from the drop-down menu, any local firmware you load will not save new or restore previous presets. 6. If you want to restore the default presets, check the "Load Default Presets" button. Otherwise if there is previous preset data stored it will display information about it on the lower status bar. If there isn't, the default presets will be automatically loaded.
7. After the flashing has completed, disconnect the module from USB power, reinstall, and enjoy. To reflash, the module needs to be unplugged and Viaflash must be restarted.