Via for Rack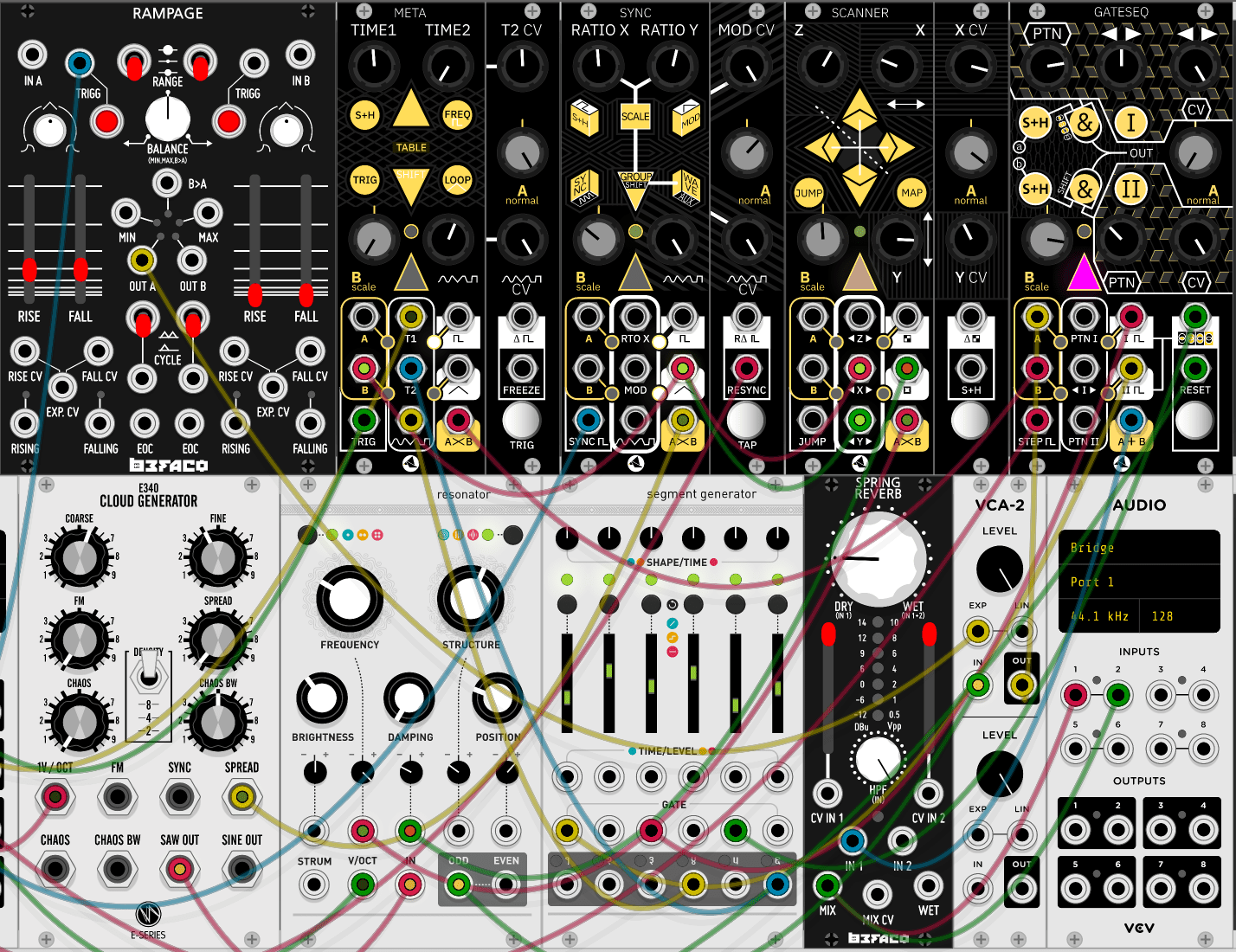 Getting Started
Installation
To install the Via modules, see this section of the Rack installation guide.
Opening and Configuring Patches
If you are new to Rack, check out this Quick Start guide.
After downloading a patch, open it from Rack using the icon in the upper left corner of the screen. You will probably need to configure the Audio module to select the correct device. If you notice choppy playback or glitches, try increasing the buffer size in the Audio module. The Midi module defaults to the computer keyboard, but you could replace that with a controller if you have one.
For those interested in incorporating these patches in an existing software workflow, check out this guide to setting up Bridge, a tool from VCV that allows painless routing of audio and midi between Rack and a host DAW. An example patch can get you started.

Using the Via plugins
The plugins try their best to emulate their hardware counterparts. All controls, inputs, and outputs behave the same between the form factors (up to the accuracy of the models of the analog circuits).
Take a look at the Controls/IO overview to get familiar with the Via UI.
The touch sensors are replaced with clickable buttons, but just like the hardware, you can change a parameter with a short click, or you can reference the current setting by clicking and holding for more than a second.
The button combos to access auxiliary parameters don't translate as well to Rack, so those options can be set from the context menu. Likewise, the preset storage and recall operations are handled with Rack's built in preset functionality. Use the "Restore Presets" method in the context menu to write the stock presets to the main presets folder in the Rack directory.
For details on each module:
ATSR Documentation
META Documentation
SYNC Documentation
SCANNER Documentation
GATESEQ Documentation
The one added feature is the option to tune META to a base pitch of C4 when it is set up as an audio oscillator or drum voice, in keeping with Rack standards. This option is accessible from the context menu.
Example Patches
Each module features a series of patches covering the default presets and illustrating a variety of patching strategies. They all use the same system of VCV Fundamental modules. The configuration mimics a minimal traditional modular or semi-modular setup. It features a sequencer, midi input, ADSR envelope, LFO, oscillator, filter, delay, and a pair of VCAs.
The patches use the system in drastically different ways, but notes are provided per module (in the patches soon) to guide experimentation for beginners:
If you want more of an overview, check out some generalized patches showcasing multiple Via modules alongside some of the other eurorack modules available in Rack.